You are unsure how to follow these instructions?
Your problem isn't here?
Just join our Discord, or write to Sunija#6598! ♥
"I cannot see WARP ingame!"
Ensure that you set the following option in GW2:
Options→ Graphic Options → Resolution, select "Windowed Fullscreen"
""I cannot see the WARP icon, but I can see WARP icons on the map.""
Start WARP in admin mode:
1. Go to your WARP folder.
2. Rightclick warp.exe → Properties.
3. Select Compatability on the top.
4. Check "Run this program as an administrator" at the bottom.
5. Repeat step 2-4 for warp_starter.exe!
Background: This happens if you start GW2 in admin mode. So, alternatively, you could also not start GW2 in admin mode.
"My screen is black!"
Open NVIDIA Control Panel → 3D Settings → Manage 3D settings
Under the Program Settings tab in the main panel, select WARP in the dropdown.
Make sure that all settings applied to WARP are the default, or as in the picture below.
Apply the changes.
Restart WARP.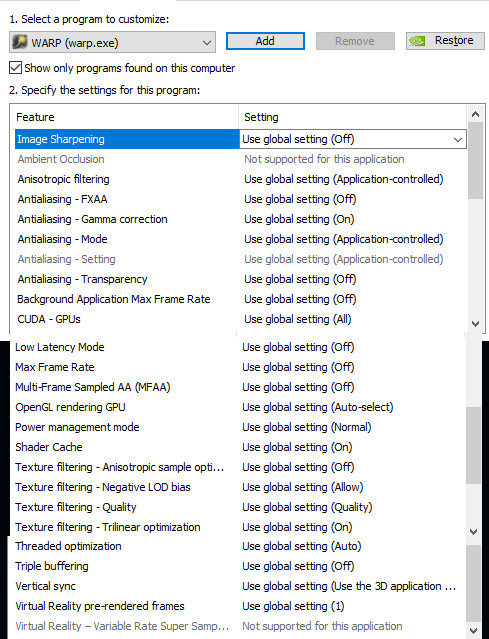 "WARP isn't downloaded correctly."
Make sure you didn't install WARP in C:/Programs.
Rather use your download folder, or "C:\Users\[Documents]\Documents"
If the patcher gets stuck, download WARP directly from
https://weltenrast.de/data/recore/WARP.zip
Unpack it, then start warp_starter.exe
Please inform us on Discord, so we can go fix it.
"I've got another problem!"
Make sure that your Antivirus program didn't delete parts of WARP.
Your WARP folder should look like the picture below.
Tell us on Discord, or just write Sunija#6598!